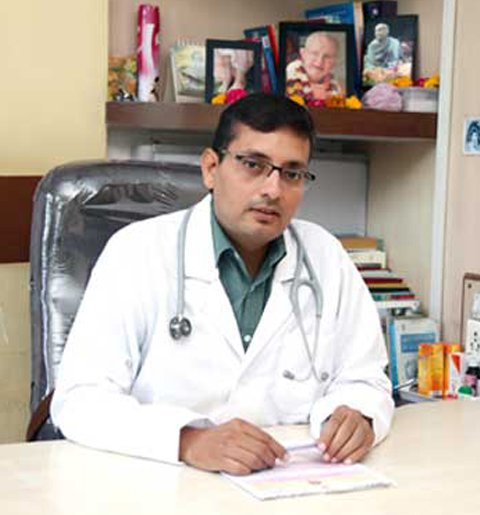 Dr. Deepak Kukreja
Paediatrics & Neonatologist
Address Info :

Eureka Hospital - 347, Saket Nagar, INDORE (M.P.)
Overview
Overview: Dr Deepak Kukreja is a Seniors Consultant (Child Specialist) at Eureka Hospital and Research Centre Pvt Ltd , Indore.
Category :- Child specialist / Neonatologist
Objective:-
To use his experience to help kids in need of medical care
 A Passionate and Compassionate doctor
 Always ready to accept new challenges.
Truly justify the saying that dealing with small kids is Art as well as medicine.
Educational Qualification:-
Graduation:- M.B.B.S.  from M.G.M. Medical College, D.A.V.V., Indore. Year 2000
Post Graduation:- D.C.H. (Paediatrics) from Mahatma Gandhi Memorial Medical College and Maharaja Yeshwantrao Group of Hospitals, DAVV, Indore (M.P.) : 2002.
Post PG Experience:- 
Completed 2 years of Post DCH DNB Training.
 1 Year 2003-2004 from Sir Gangaram Hospital New Delhi.
 1 Year 2004-2005 from Choithram Hospital, Indore.
Clinical Experience:-
1. Worked at Sir Ganga Ram Hospital, New Delhi Where dealt with all kind of critically ill Pediatric/ Neonatal patients and patients pertaining to Pediatric superspecialities including  Pediatric Cardiology, Pediatric Neurology, Pediatric Rheumatology , Pediatric Endocrinology & High Risk Newborn.
2. Worked at Choithram Hospital Indore Where further refined knowledge and experience in all aspects of Pediatrics and neonatology including conventional and advanced modes of ventilation.
3. Private Practice:- Since last 15 years dealing with variegated  of OPD and IPD patients and providing services to all  classes of patients.
Scientific Sessions and Other Activities:-
Paediatric Advanced Life Support (PALS) course.
Neonatal Advanced Life Support (NALS) course
Presented various CME on various topics pertaining to Pediatrics /  Neonatology